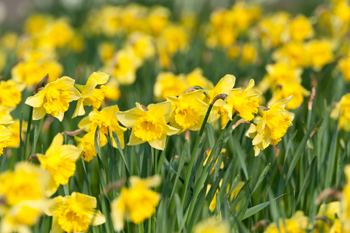 MARCH FLOWER OF THE MONTH

Daffodil
The March birth flower is the delightful Daffodil which blooms in the spring. They have trumpet-shaped petals that are set against a differently colored star-shaped stylus. The language of flowers introduced in Victorian times says that daffodils symbolize friendship and happiness. they are sometimes used as the 10th anniversary flower.
---
MORE FLOWER MEANINGS

Alstroemeria
Symbolic of wealth, prosperity and fortune. It is also the flower of friendship.
Amaryllis
Symbolic of splendid beauty. It is also used to indicate worth beyond beauty.
Anthurium
Symbolizes hospitality. It is also used to indicate happiness and abundance.
Aster
Symbolizes patience. It is also indicative of a love of variety. It also symbolizes elegance and daintiness.
Bells of Ireland
Symbolizes good luck - sure to bring the recipient good fortune!
Birds of Paradise
Symbolic of joyfulness. It also symbolizes magnificence. It can also be used to indicate exciting and wonderful anticipation.
Bittersweet
Symbolic of truth.
Cactus
Symbolic of endurance.

Calla Lily
Symbolizes magnificence and beauty.
Carnation
Symbolize fascination & love. Special colors are symbolic as well: Red: Deep love & affection Pink: A Mother's undying love Purple: Capriciousness White: Sweet & lovely. Innocence. Pure love. Good luck. Chrysanthemum (or Mum) Symbolic of fidelity, optimism, joy and long life. Special colors are symbolic as well: Red: Love, Good luck & best wishes White: Truth Yellow: Slighted love
Daffodil
Symbolic of honesty & truth.
Daisy
Conveys innocence, loyal love, and purity. It's also said to represent keeping a secret between friends.
Delphinium/Larkspur
Symbolizes big-heartedness, fun, lightness and levity.
Freesia
Symbolizes innocence and thoughtfulness.
Gardenia
Symbolizes purity and sweetness. They indicate secret love.
Gerbera
Specifically convey cheerfulness.
Gladiolus
Symbolizes strength of character, faithfulness and honor.
Hydrangea
Often used to express a thank you for understanding and other deeper, heartfelt emotions.
Iris
Symbolizes eloquence.
Lily
Symbolizes purity and refined beauty. Special colors are symbolic as well: White: modesty and virginity Orange: passion Yellow: gaiety
Marigold
Symbolize passion and creativity.
Orchid
Symbolic of love, beauty, refinement and wisdom.
Pansy
Symbolic of a thoughtfulness, remembrance and togetherness.
Petunia
Symbolic of your desire to spend time with someone because you find their company soothing and peaceful.
Roses
Symbolic of love. Special colors are symbolic as well: Coral: desire Lavender: love at first sight Pink: thank you, admiration, gentleness, grace, gladness, joy and sweetness Red: love, respect, courage, passion White: purity, secrecy, silence innocence and charm Yellow: joy, gladness, friendship and "I Care"
Snapdragon
Symbolizes graciousness and strength.
Statice
Symbolic of remembrance. It also symbolizes sympathy and success.
Sunflower
Symbolic of pure thoughts, adoration & dedication.
Tulip
Signify a declaration of love.
Zinnia
Meanings including thoughts of friends, endurance, daily remembrance, goodness and lasting affection.